"Sapere aude sincere et constanter" – Dare to be wise, sincere and constant. This is the motto of St. Columba's School that enshrines its spirit and ethos.
On January 7, 1941, what began as a small complement of four Christian Brothers, three teachers and 32 students, is today one of the most distinguished educational institutions in the country with over three thousand students and 150 teachers. Spread over several acres of prime land in Lutyen's Delhi, St. Columba's School exemplifies the outstanding educational infrastructure of modern India and shines as the crown jewel of the august Christian Brothers institutions worldwide.
St. Columba's has earned wide acclaim and recognition over the years and won numerous awards for its unique contributions to the field of education in India. The Education Quality Foundation of India (EQFI) chose St. Columba's for the prestigious "Whole School Award" for dissemination of quality education.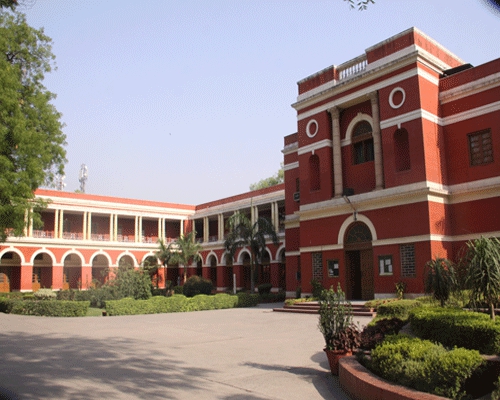 St. Columba's has traditionally laid equal emphasis on academics, sports and extra-curricular activities, which has emerged as its most defining attribute over the decades. The vigorous and dynamic school environment is powered by an exceptionally qualified and experienced teaching faculty, and backed by the passionate and visionary leadership of the Principal, Brothers, and Headmistresses. The result of this collective drive and commitment is that the school continues to produce year after year a galaxy of young achievers with well-rounded personalities in every sphere of human excellence.
If a school is known by the students it produces, then St. Columba's stands apart with its stellar list of distinguished alumni who are making an impact and transforming the world for the better.
The school has produced Rhodes Scholars, Pulitzer Prize winners, Air Marshals and Army Generals, Deans and Professors of Harvard, Stanford and other pre-eminent universities, renowned scientists, economists, journalists and historians, spiritual gurus, authors, poets, and actors of international fame, Olympians, founders and CEOs of world-class corporations, and governors, ministers, chief justices, vice chancellors, and members of parliament
When St. Columba's School was founded in 1940, Reverend Sylvester Patrick Mulligan, the Archbishop of Delhi envisioned that the new school would be "a monument to the educational zeal of the Christian Brothers." St. Columba's School officially opened on April 29, 1941 with Brother R.E. Butler as its first principal. The school grew in stature under a succession of dedicated principals and continued to build on its strengths with each passing year. By the end of the first decade, St. Columba's had emerged as Delhi's leading school with 500 students and 23 staff members. Each year brought more students and very soon, the school had emerged as the most sought-after school for boys in New Delhi.
In 2002, St. Columba's opened its doors to the homeless and vulnerable and has since been providing shelter refuge to the homeless in the school. The school celebrated its platinum jubilee in 2015, which was marked by four days of magnificently creative endeavor and festivity. The school now continues to spearhead with its tireless drive to contribute in the building of a peaceful, equitable and progressive 21st Century India.
Platinum Jubilee of St. Columba's
The culmination of 75 years of excellence at St. Columba's happened in the form of a spectacular Docu-operetta, a four-day extravaganza held at the school premises in December, 2015. This landmark event was marked by soulful musicals, national and international dances and ballets, choir renditions, nine-is-mine acrobatic show, theatrical performances depicting the sacrificial life of the Christian Brothers, and marches by the flag-bearing contingents of each of the Christian Brothers institutions worldwide.
St. Columba's now looks forward to the next 75 years of extraordinary schooling to make an even greater impact on the society and help transform the country and the world through relentless pursuit of human excellence and endeavour.
We, the Columban family, dare to be wise, sincere and constant. Sapere aude sincere et constanter.
OCA's mission is to praise, promote and protect St. Columba's School and its students, and to unite, inform and involve alumni and friends in fellowship and support of each other and the school. OCA connects its members to each other and to the past, present and future of St. Columba's School.
The Objects for the attainment of which the Association is formed are :
To act an as institutional vehicle and as a centre for promoting fellowship, fraternity, friendship and understanding amongst ex-students of St. Columba's School (hereinafter referred as "School") and between ex-students and the School.
To organise or undertake social, cultural or professional events and activities for purpose of providing an institutional forum for students, ex-students, staff and employees of the School and for the exchange of views.
To undertake activities for the growth, welfare and prosperity of the School and its staff, students and employees
To organise, facilitate, undertake or sponsor talks, lectures, demonstrations, seminars, symposia, workshops, colloquia, get together and assemblies on subjects of interest and relevance to the School or its students, ex-students, staff or employees.
To disseminate information, knowledge and awareness about the School or its Students or ex-students and their academic, extra curricular activities.
To create and maintain an information database relating to ex-students of the school and to undertake research projects or surveys relating to their occupational or personal profiles.
To provide a forum for free and frank exchange of views on all matters relating to the school or its members.
To advise or assist or contribute in any manner to the promotion and maintenance of academic excellence, moral integrity and impressive personality of the students of the school regardless of religion, caste or creed and to inculcate in them an independent, inquiring and rational disposition.
To promote sporting activities of all kinds and to organise events, contests or tournaments for this purpose.